Ortec Finance/ The DTN/ NEWSCONSOLE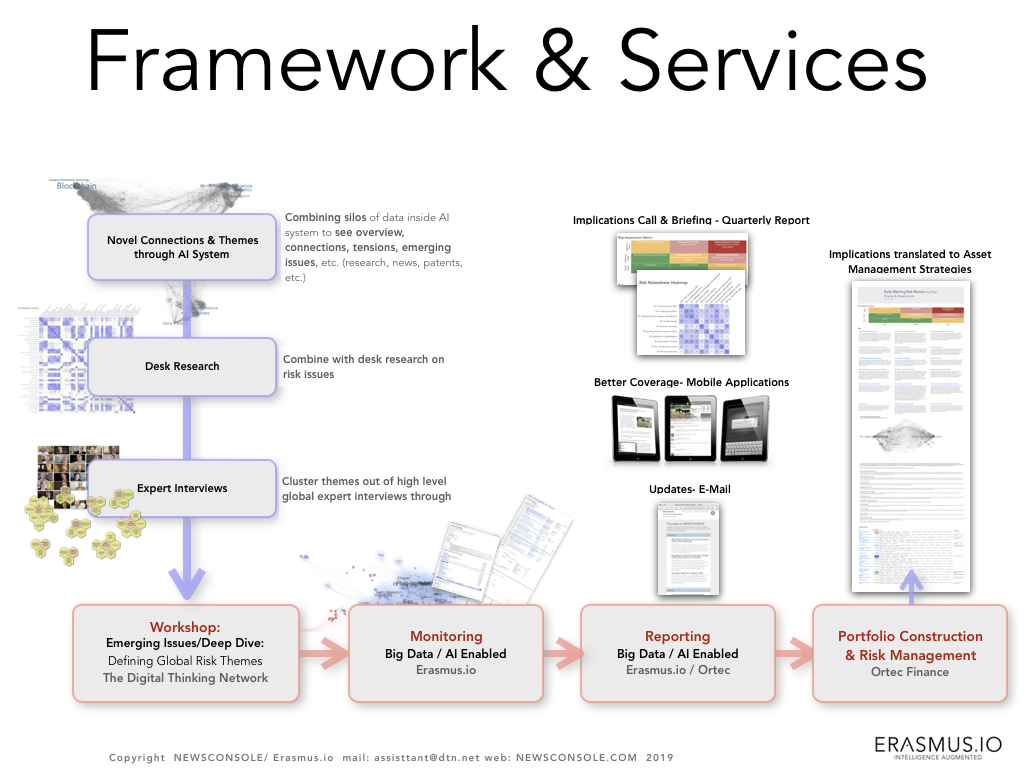 Collaboration
The combination of Ortec Finance's expertise in portfolio construction, asset and risk management ; The Digital Thinking Network's long term scenario thinking and the Erasmus.io/ NEWSCONSOLE big data/AI engine, enables a translation from future scenarios & emerging issues to actual impact on portfolios for institutional investors.
It is therefore the tripartite collaboration between:
Seeing changes before they happen (The DTN)
Understanding the impact of these potential scenarios on asset allocation (Ortec) in order to create robust positions (portfolio construction & risk management). 
Using Erasmus.io AI/ big data platform to track and report the change as the world starts responding to the reality of climate change. 
Ortec Finance: Leadership in Future Asset Allocation/Management
Ortec Finance is a global provider of technology and advisory services for financial risk and return management, helping people to manage complex investment decisions. Established in Rotterdam in 1981, Ortec Finance has over 250 employees who combine mathematical ability, business awareness, and practical application to deliver innovative and pragmatic solutions. The company supports investment decision-making for institutional and private investors.
Ortec Finance designs, builds, and applies solutions for asset-liability management, ex-ante and ex-post risk management, performance measurement and risk attribution, and financial planning. Its global and long-standing client base, totalling over two trillion dollars in assets under management, comprises leaders in the pensions, insurance, investment management and private wealth management markets.
Ortec Finance clients include APG, PGGM, ING, HOOPP, OMERS, ABB, Roche, USS Pension Plan, New Zealand SuperAnnuation Fund, QIC Australia, KFIRI South Korea, The World Bank, OPTrust, Unilever Pension Funds, CERN Pension Fund, PUBLICA Pension Fund, Shell Pension Funds, Robeco, Philips Pension Fund.
The Digital Thinking Network: Thought Leadership in Futures Thinking
For more than 20 years The DTN has facilitated well over a 100 scenario sets on 4 continents & led groundbreaking strategic shifts both for public and private clients.
In public sector transformation the DTN created the International Advisory Board for the City of Rotterdam, that lead to the groundbreaking initiative to half Rotterdam's CO2 emissions by 2025- a target following a 3 year transformation process was set well before Al Gore's first film was released. This is double the goals set of any city. Other work included a three year, 300 people global futures study for the state of the world in 2030-40+ for French government/EU, as well as the 21st Century vision for the Ministry of Foreign Affairs, etc.

Scenarios together with big data analytics anticipated the global financial crisis (in early 2006) for a large financial services institution leading to its most profitable year in its 150 year history in 2008. One of two global banks that had asset accumulation in 2008. Additionally we anticipated the 2014 Oil Price Collapse (in 2012) leading to a $50 B merger in the Oil Field Sector. DTN scenarios anticipated the $ 70 oil price when it was $ 23 (2003), etc. Strategic acquisitions resulting from DTN scenarios have created € 350 million in profit from a € 390 million sale of a strategic acquisition bought 3 years earlier for € 27 million.
DTN scenario, innovation and transformation clients include Rabobank, Ortec Finance, Telenor, Vodafone, Sanoma, Shell, Norwegian Petroleum Institute, Nokia, the City Rotterdam, the Dutch Ministry of Foreign Affairs, Ministry of Economic Affairs, Ministry of Spatial Planning, etc.
As input to these and other scenarios the DTN has conducted more than 1000 high level multi hour video interviews with global thought leaders from inventors of the Internet Vint Cerf & Bob Kahn; entrepreneurial pioneer of mobile payments Takeshi Natsuno or founder of Rakuten Shinnosuke Honjo; to Nobel Laureates George Akerlof and James Mirrlees; to author of Limits to Growth Jorgen Randers; climate scientist and NASA Goddard Head- Jim Hansen; to CEO of SWIFT Gottfried Leibbrandt, CEO of TCS Natarajan Chandrasekaran; to one of the sushi masters of the Emperor of Japan Eiji Sato-Oyakata and HRH Price Carlos de Bourbon de Parne, etc. DTN principal Daniel Erasmus has written three books describing scenario processes, including a forward looking column in the Financial Times Review.
Erasmus.io/ NEWSCONSOLE – Intelligence Augmented
The AI Platform Erasmus.io is a global sense-making platform that enables us to see domain overview to discover and track tensions inherent in all the news, patents, open-access research, medicine, tax, etc. The platform works natively in 15 languages.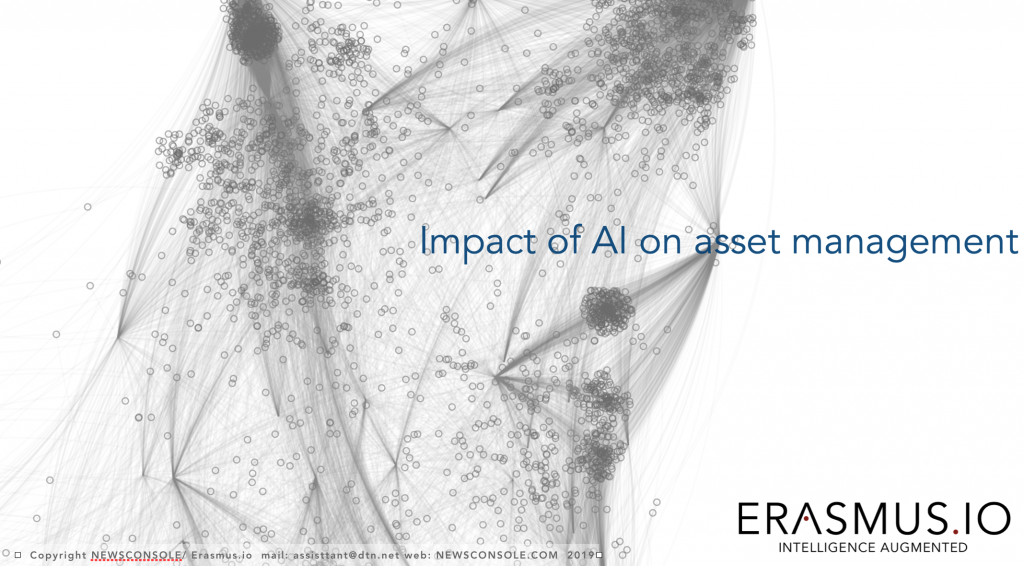 The ability to use the Erasmus.io platform to see entire domains, tensions, infections, unknown-knowns helps us see soft future(s), tensions, inflection points- the edge. The small thing (sub-prime) that is happening at the edge which in retrospect is not such a small thing at all (a global crisis). The platform reads and processes billions of items of text to give its customers global overview where none existed.